2019 Toyota Prius Introduction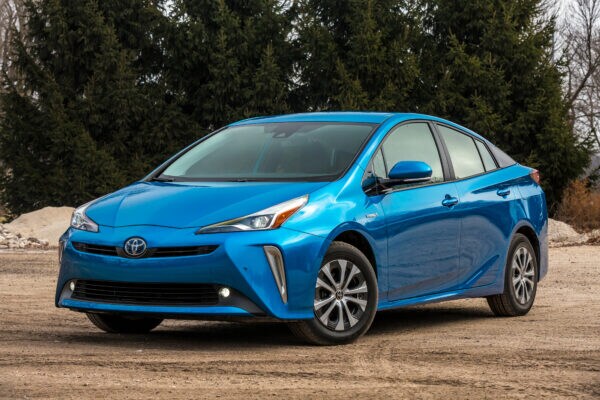 The 2019 Toyota Prius has some news to share: For the first time, it's available with all-wheel drive, using the system from the Toyota RAV4 crossover SUV.
With AWD, fuel economy slips slightly, but the Prius remains one of the most efficient vehicles on the road, especially in plug-in Prime form.
Put aside its jetpack style for a moment: The Prius matters because of its hybrid powertrain. The Prius uses a 1.8-liter 4-cylinder engine making 95 horsepower, mated to a 53-kilowatt electric motor to produce 121 total horsepower. The all-wheel-drive system uses two additional small motors to drive the rear wheels, but they only work at speeds of up to 43 mph.
Front-drive versions of the Prius use a 0.75-kwh lithium-ion battery pack, while all-wheel-drive models use a 1.2-kwh nickel-metal hydride battery that's less compact and a bit less efficient, but more durable in cold weather.
The front-wheel-drive Prius is EPA-rated at 54 mpg city, 50 highway, 52 combined. The Prius Eco, with less weight and tires with a lower rolling resistance, gets 58/53/56 mpg. The new Prius AWD-e rates 52/48/50 mpg.
The Prius Prime plug-in hybrid gets 54 mpg combined when running as a hybrid, but the EPA says it can go 25 miles on electric power alone.
The NHTSA gives the Prius five stars overall in crash safety, including four stars for front crash safety and four stars in the calculated rollover score. The IIHS calls it a Top Safety Pick, thanks to top "Good" scores in all its crash tests, except the passenger-side small overlap crash, where it only earned an "Acceptable" rating.
Every Prius is equipped with automatic emergency braking, which the IIHS rated as "Superior" at avoiding forward crashes at 12 and 25 mph in tests.
Optional safety extras such as blind-spot monitors and a head-up display are available on top trims.