2019 Toyota 86 Introduction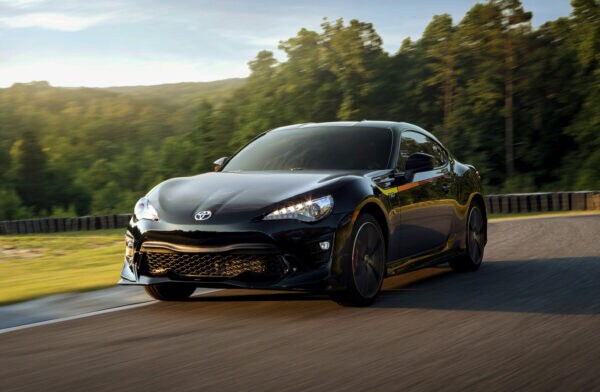 The Toyota 86 (called "eight six," not "eighty-six") succeeds as an affordable sports car with all the classic sports-car stuff, in a modern body. Its rear-wheel-drive handling is nimble and its power is not awesome, both of which are classic qualities. It's simple. Most of all, it's fun to drive. It's unchanged for 2019 except for a few new options.
The good-looking 86 was a joint project with Subaru, whose very close sibling is the BRZ. The engine is a Subaru 2.0-liter horizontally-opposed four-cylinder, making 205 horsepower with a six-speed manual gearbox and 200 hp with the six-speed automatic. It only makes 156 pound-feet of torque, so grunt is not its thing; what the engine likes is to be revved to the screaming point, because the power comes on at high rpm.
For 2019, the 86 GT model can be had with optional red-trimmed sport seats as long as the exterior paint isn't blue, and don't ask us what Toyota has against blue and red together. There's also a new TRD Special Edition package with interior and exterior tweaks including graphics and unique 18-inch wheels.
The 86 is EPA-rated at 24 mpg city, 32 highway, and 27 combined with the automatic and 21/28/24 mpg with the manual. The Mazda MX-5 Miata, main rival for the 86, gets 3 more miles per gallon, but it's lighter and less powerful.
The NHTSA gives the 86 four stars in forward crash protection, and five in rollover; no overall score because those are the only two tests they've done so far. The IIHS gives the 86 an "Acceptable" rating in the small front overlap test, with "Good" scores in other categories. No active safety equipment is available, but there is a standard rear-view camera, and also standard hill-start assist for cars with a clutch; the convenient hill-start-assist, invented by Subaru, automatically applies the brake to keep the car from rolling backwards when you're pulling away from a stop on a hill.