2018 Toyota Corolla Introduction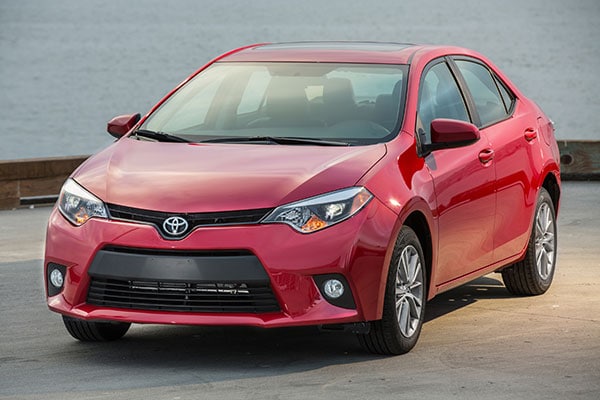 With a history dating back nearly half a century, the Toyota Corolla has been almost synonymous with the term compact car. Little has changed on the sedan for the 2018 model year, except for cancellation of last year's 50th-anniversary special edition. All 2018 Corolla models get lighted vanity mirrors, while 2018 Corolla XLE and 2018 Corolla SE gain a leather-wrapped steering wheel.
Corolla added a new model for 2017: the Corolla iM hatchback. Sharing little more than the model name, Corolla iM began life in 2016 as a member of the Scion family. When Toyota's Scion division disappeared, prior to the 2017 model year, the iM became part of the regular Toyota lineup. Basically, the iM is a five-door hatchback, developed for European sale, with its own interior layout and a more sophisticated suspension. As a hatch, the iM represents a small fraction of Corolla sales in the U.S. (To learn more about the iM, see our 2016 Scion iM review.) In the iM hatchback, Toyota's 1.8-liter engine produces 137 horsepower and 126 pound-feet. A single trim level is offered, with the choice of CVT or 6-speed manual shift.
Corolla sedans come in six trim levels: L, LE, LE Eco, XLE, SE, and XSE. Each holds a 1.8-liter four-cylinder engine that makes 132 horsepower and 128 pound-feet of torque. The LE Eco is an exception. Tuned for fuel-efficiency, with special valve timing, its engine is rated higher than the regular version, at 140 horsepower. Like other current Toyota products, the Corolla gets an impressive collection of safety features as standard equipment.
Most Corolla sedans are fitted with a continuously variable transmission (CVT). A 6-speed manual gearbox is available only for the SE sedan.
Corollas might be short on personality, ranking as average all around. But they're refined in demeanor and fully capable of delivering common-sense satisfaction.
Not only do both body styles earn high scores for efficiency and comfort, they've earned admirable crash-test scores. Strong crashworthiness and superior standard safety equipment combine to make a compelling case for Corolla ownership.
The Insurance Institute for Highway Safety rated the 2017 sedan a Top Safety Pick+. The National Highway Traffic Safety Administration gave it five stars overall, with a four-star rating for frontal collision and four stars for rollover (a calculated score).
Every Corolla comes with LED headlights, automatic emergency braking, lane-departure warning, and automatic high beams. Sedans also contain adaptive cruise control.