2018 Toyota Camry Introduction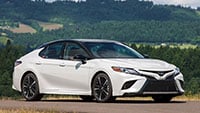 The 2018 Toyota Camry is a redesign of the midsize sedan, beginning the next generation of the Kentucky-built car that's been a best seller for 15 years.
The looks are expressive and the suspension is sophisticated, enough of each to leave behind the Camry's hum-ho past. Naturally it's more fuel efficient than before.
The all-new Camry has to have something special to stay ahead of the pack, now including the popular crossovers. Its competitors are impressive, including its arch-rival Honda Accord and the new Hyundai Sonata, along with Chevrolet Malibu, Ford Fusion, Kia Optima, and Nissan Altima.
The base Camry L comes with a 2.5-liter four-cylinder now making 206 horsepower, hasn't changed. It's mated to an eight-speed automatic transmission, the same transmission used with the bigger engine, a 3.5-liter V6 making a full 301 horsepower. Few competitors offer a V6. There's also a Camry Hybrid with continuously variable transmission.
Camry SE and XSE each get sporty styling.
Camry L gets an EPA-rated 34 miles per gallon Combined city and highway, while Camry models with more equipment and the same four-cylinder engine rate 32 mpg. The V6 gets 26 mpg Combined. The Hybrid LE is EPA-rated at 52 miles per gallon, the first midsize sedan to break the 50-mpg barrier.
The Camry Hybrid uses Toyota's latest system with two motors, which made its first appearance on the 2016 Prius. It's a 176-horsepower 2.5-liter engine tuned for the two electric motors that power the car under light conditions. The battery pack is under the rear seat, like in the Prius, which allows the hybrid's trunk to be as big as the sedan's. There are two types of battery pack, depending on the model; the 52-mpg LE uses lithium-ion batteries, while the more costly SE and XLE hybrids use the older and heavier nickel-metal-hydride batteries to achieve 46 mpg.
So far we've only driven pre-production models of the new Camry. We'd rate its performance as average, even with a new chassis. But it looks better, and there are improvements in safety and other features. We can't comment on comfort and quality until we drive the production models, but we expect the build quality to be high.