2018 Toyota Avalon Introduction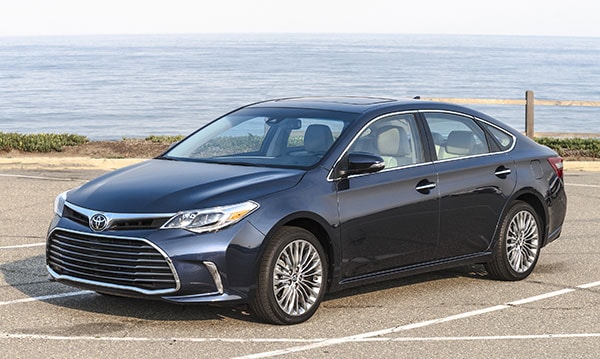 The Toyota Avalon is a full-size sedan with abundant interior space and leather-upholstered comfort. Sliding in and out of its seats is easy, and it's smooth and quiet underway. Devoid of the latest in swoopy design, its near-classic appearance is aging well. With its modern safety features, the Avalon shows no significant change for the 2018 model year. Avalon was last redesigned for the 2013 model year.
Two distinct versions are available: one with a conventional V6 gasoline engine, and the other with a hybrid (gasoline/electric) powertrain. Both are fuel-efficient, and the Avalon Hybrid ranks among the most thrifty full-size family cruisers on the market.
In regular Avalons, a strong, smooth-running 3.5-liter V6 produces 268 horsepower and 248 pound-feet of torque, mated to a 6-speed automatic transmission. With a 24-mpg Combined rating from the EPA, it's right on track in terms of fuel efficiency with the large-sedan competition.
The Avalon Hybrid ties a 2.5-liter, 200-horsepower, four-cylinder gasoline engine with an electric motor, coupled to a nickel-metal hydride battery pack. A continuously variable transmission (CVT) takes the place of the 6-speed automatic. Acceleration is passable; reaching 60 mph takes 8.2 seconds. The EPA estimates 40 mpg in Combined city and highway driving.
Gas-engine Avalons come in five trim levels. Hybrids are available in XLE Plus, Premium, and Touring trim.
For the 2017 model year, Toyota made its Safety Sense group of safety features standard on all models. Included are a lane-departure warning with steering assist, forward-collision warning with pedestrian detection and automatic emergency braking, adaptive cruise control, and automatic high beams.
Many automakers continue to limit modern active-safety equipment to top trim levels. Making them standard raises the status of Avalon against such full-size rivals as the Chevrolet Impala, Ford Taurus, and Hyundai Azera, helping to justify its higher price. In addition to a standard rearview camera, each Avalon has ten airbags.
A solid crash-test record also helps. The National Highway Traffic Safety Administration gave Avalon a five-star overall rating and five stars in side-impact testing, though its frontal-impact test earned only a four-star score. Naming Avalon a Top Safety Pick, with Good crash-test scores, the Insurance Institute for Highway Safety has rated it Superior for frontal crash protection.
In any trim level, the Avalon is abundantly equipped. Top models come across as veritable luxury sedans.